I don't know how many of the readers of this post have actually read something by Max Landsberg, an international bestseller who has authored many motivational books. The list includes a masterpiece that I have gone through – The Tools of Leadership. The subtitle of this very book tells us Vision, inspiration, momentum. The cover is very much a reminiscence of Longfellow's 'footprints on the sands of time'. Max Landsberg is a tricky author and his books are witty; this is something I can be sure of. Let's get into The Tools of Leadership.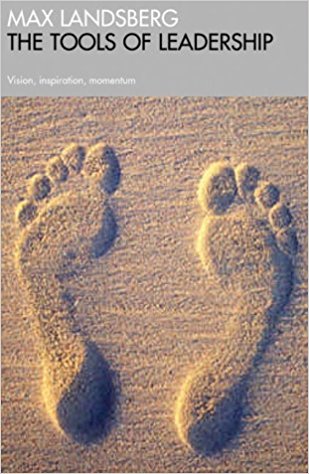 "Leadership is as much an art as it is a science." pp.137
This says very much about Landsberg's approach to leadership. He has beautifully adjusted the chapters and their limits and even the titles of each of them. Mostly it would seem to suffice for the corporate people, however, anyone can enjoy the book and gain something from it. For example, when Landsberg says that three things need to be there for a person who wants to be a leader – Vision, inspiration, and momentum, he is right for most of us. Anyone among us who would love to become a leader will eventually be leading people (maybe a corporate team or maybe a bunch of students or maybe a society or even a nation). His discussion about focus, urgency and factions is also wonderful. Landsberg, in the next chapters, talks about shaping the teams, creating a vision, letting there be an aim and so on… most emphatic things that one would find in the course of his or her reading is when Landsberg talks about whether a person is leading or just managing. That chapter is wonderful and gives us an actual insight into the role of a true leader and the role of a forced reader. You cannot ignore that one.
The narrative technique in this book, The Tools of Leadership, has been kept to be two-fold. One runs through the medium of a story and another is the direct inputs from the author. In most of the cases, you will find Alex, the fictional character, in trouble and then Landsberg comes to the rescue of the readers (Alexes). That is a bit funny too, but highly striking and to the point.
A simple motivational book with the power to enhance the leadership skills of anyone, this book by Landsberg is one of my favourite motivational books! If you have a fancy about the books which push you, propel you and entice you to do something great, go for the Max Landberg's creation – The Tools of Leadership. You will not regret reading that piece. 🙂
The Tools of Leadership by Max Landsberg
Motivation

Narrative

Reader's Delight
Summary
A must read book for the readers who rave for motivation from the pages…