Feminism has been a hot topic for many women writers in India. They have expressed their views in fiction as well as non-fiction genre. Many men have also been vocal about this umbrella issue that shadows many other issues under it. However, feminism for many has been a topic that is more related to men than women. Compete with men, wages more than men, positions of men, dignity as men and so on. For many, therefore, feminism is a topic that cannot complete without bringing men. Is it good? That's open for readers and intellectuals to think and decide. However, there have been authors who present real issues more related to women in their works. In recent times, I read one more book on feminism by a contemporary author Dr Sarika Jain and her book is titled SHE: A message for those who belittle girls. This is her very debut book that by no means is like many other debuts I have read. It is different, forceful and also sensible at the same time.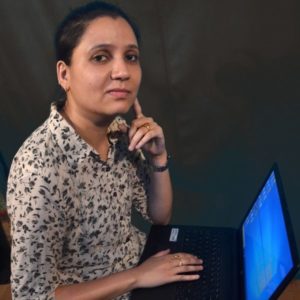 First impression of the book was quite connecting. I read the preface and then had a look at the chapters. Chapters are quite abstract – mentioning one quality per chapter. I began reading it and got fascinated by the style as well as the research that Sarika might have to go through to write her book. SHE is the true voice (the best that the author could manage) of women today. They want to soar without fear of their wings being clipped. And this is what the author has conveyed through her title.
Some points raised by the author in SHE are very basic. Many points raised, on the other hand, are pretty serious and we need to focus on them if we want our society to progress. And a simple fact that Sarika wants to highlight is that if our society intends to progress, our society will have to be progressive. That's it – no more stigma of periods, no more trouble with girl child education, no more discrimination against women in the family, no more widow-shaming… there are many issues that can easily be overcome once our society becomes progressive and literature like the present book can be immensely helpful with all this!
At the end of each chapter, readers can find poems written by the author. This indicates that the author is interested in poetry as well as she writes good poems too. Each of the chapters also contains examples of various women who have fought and victored various problems and set themselves as examples to be followed. Women of today need to follow such exemplary women who have not decided to become a subject of suppression and subjugation.
Critical Reception: Sarika's debut book has received appreciations from many book critics, reviewers and readers in India. Many of the best book review websites in India have praised her narrative, her factual correctness as well as her 'other side of the mirror' description to the issues she dealt with in her book.
The best part of SHE: A message for those who belittle girls is that the author did not limit her feminism to blaming men and their dominance. She is rather looking for a space for women because they deserve it. Dr Sarika Jain's feminism is not elitist; her feminism is simple and factual and essential. The book is indeed a practical example of modern women and their needs. I will suggest this book to all the readers who want to read serious non-fiction today. You can get a Kindle copy of this book in just Rs 99 and also buy the paperback in Rs 236 from Amazon. You can follow the link below to buy the version of this book you like!
review by Priya for Featured Books
SHE: a message for those who belittle girls
Summary
I liked the content… I liked the way Sarika has narrated her chapters. This book is beyond the contours of elitist and rubbish feminism…